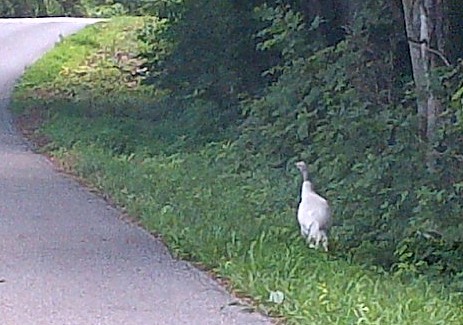 I enjoyed an unusual wildlife sighting during a quick trip home for lunch last week. What I thought was an odd duck or goose was really a wild white turkey.
Wild turkeys think they own roads. They march the center line. The white turkey commandeering my Cookeville TN country road was visible from around the curve. I just couldn't identify it until I was stopped in front of it. At that distance, I could see that it was white, not albino. And that it was a turkey.
I've seen a lot of wild turkeys in the past 20 years as their flocks increase in size and number across Tennessee. But I have never seen a white one. Friends who hunt and tramp the woods on a regular basis agree that white turkeys are uncommon.
I travel this neighborhood road daily, but I've never seen this turkey before. I didn't see it as I headed back out. I was just in the right place at the right time to enjoy this rare moment.
Cookeville TN REALTOR® Brenna Piper, ABR, has worked with American Way Real Estate since 2002. A former television news photographer and corporate marketing director, she provides accomplished marketing and negotiating services to sellers and buyers across ten countries of Tennessee's scenic Upper Cumberland area. For more information, contact her at www.BrennaPiper.com.